Top 18 Short Hairstyle Ideas
If you've ever dreamed of chopping your locks and rocking a trendy pixie, there's NO better time to do it! Short haircuts are all the rage for 2016, but if you need a little help deciding which short hairstyle is right for you, we're here to help! From spiky to messy, layered to chopped, we've got it all- which one suits your style?
Layered Top with Shaved Sides/Back: Asymmetrical Hairstyles for Short Hair
Left with plenty of length on top, these dazzling platinum blonde tresses lay gracefully over the shaved sides and back for a very unique and trendy look. We're loving the hints of pastel pink throughout the mane, giving it some dimension and trendy attitude.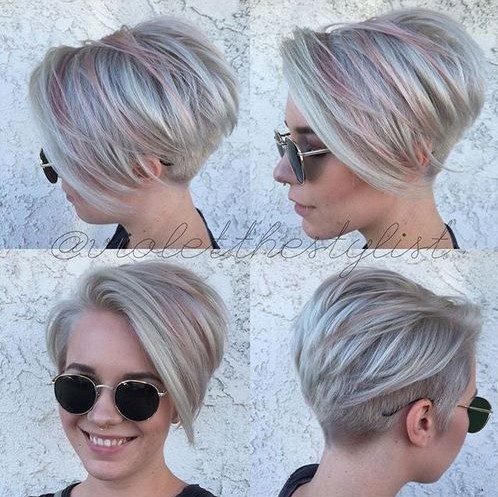 Pink wit Framing Bangs: Cute, Easy Short Pixie Haircut
There's so much to love about this funky yet totally cute hairstyle! The look starts off with an assortment of layers throughout, the contrasting lengths bulking for a full-bodied finish (great idea for thin hair!). She then adds some unique framing baby bangs for a really out-there style that KILLS!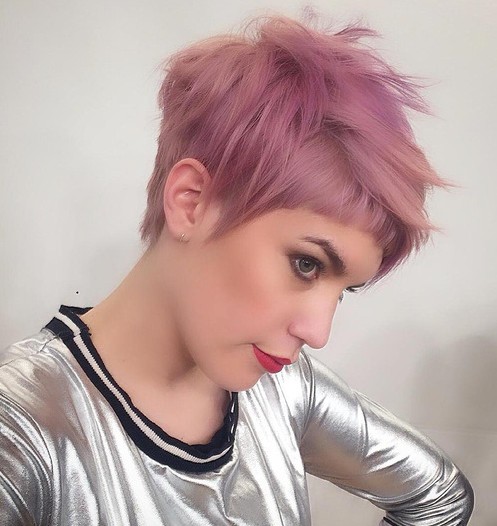 Lengthy Top with Contrasting Short Sides: Summer Hairstyle Ideas for Short Hair
2016 is all about being free and unique with your style, and some of the hottest color trends include purple, blue, and GRAY! Her style is hip and casual with a messy lengthy top half followed by cool short gray sides with hints of purple.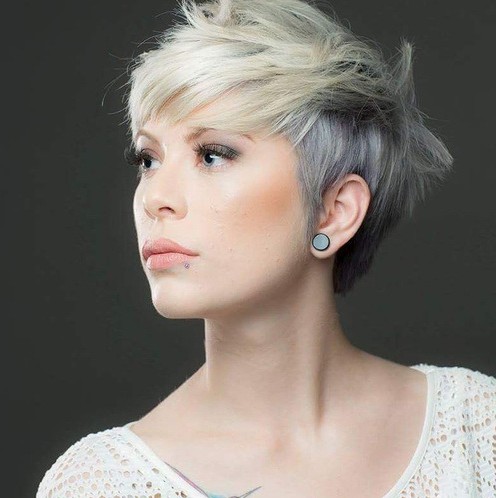 Tri-Colored Toss Back: Stylish Hair Color for Short Hair
A lovely toss back short hairstyle can easily be made elegant enough for the ball with a pair of sparkly earrings, or it can be ultra-casual with your favorite blue jeans. Her hair s given attitude and contrast with several colors including a dark shade of purple, honey blonde, and sandy blonde.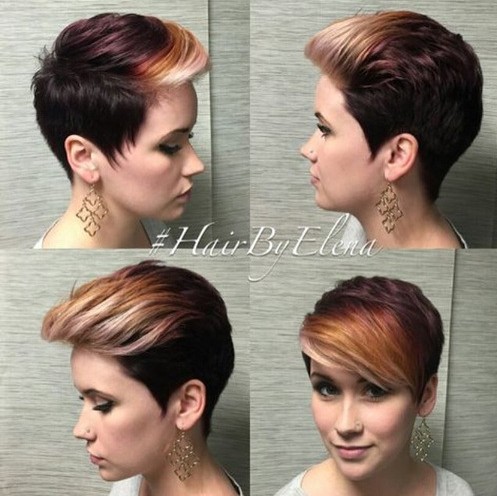 Bowl Cut with Shaved Sides: Shaved Short Haircut
This particular hairstyle is reserved for the gal that oozes style, fashion, and flare. It's for girls that want all eyes on them and prefer a uniquer, more intense style. This lengthy bowl cut is given a trendy finish with shaved sides, and with the addition of dark eye makeup and black clothing, it's modern enough for the runway.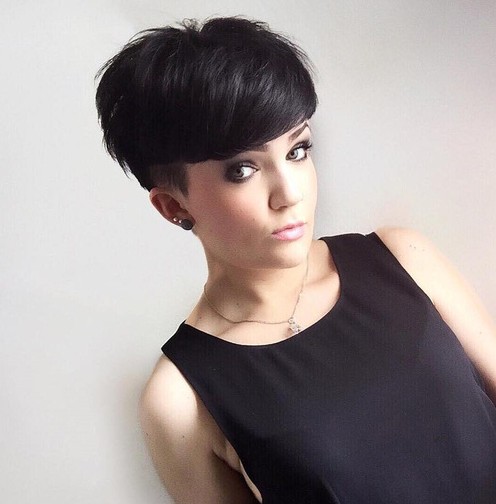 Super Short 'Boy' Cut
With 2016 being the year of 'anything goes', we dare you to try out this awesome hairstyle. Who said a super short cut with shaved back and sides is just a look for boys? This mess-free style is great for women who just want to get up and go.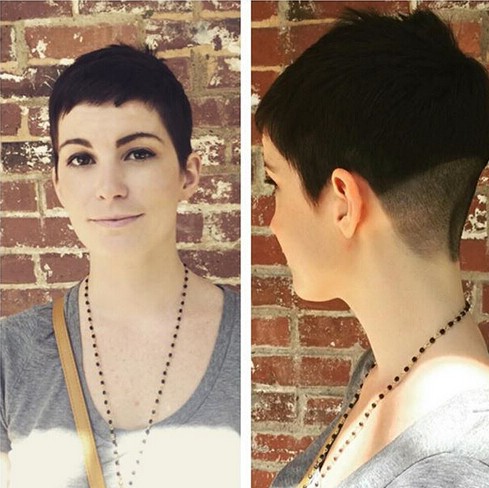 Super Messy Waves: Women Short Haircut Designs
Looking to add some bulk to your locks? A little bit of detail? Just a cute finish that's different from your typical straight mane? Then consider some super messy waves like these! Cute, casual, and fun.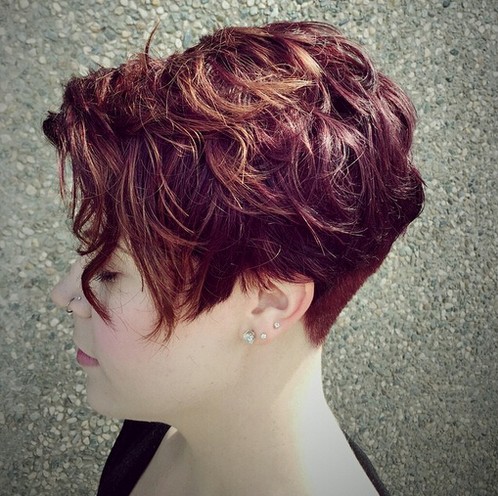 Curly Top Half with Shaved Underneath: Shaved Haircuts with Short Curly Hair
This look is undoubtedly one of the trendiest and chicest looks we've seen yet! Her entire bottom half is shaved down, leaving some extra lengthy tresses up top. She curls them up a bit for a very dashing look that can be worn anywhere.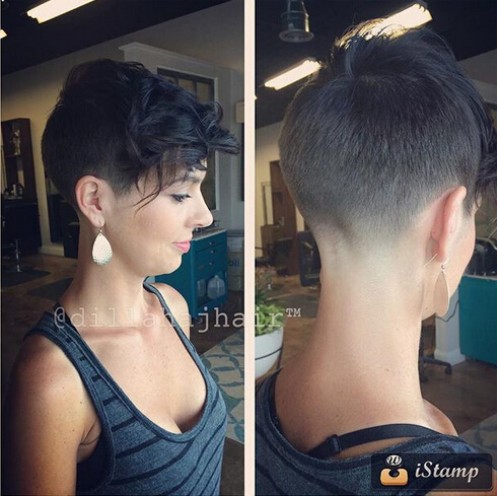 Super Layered Pixie: Short Hairstyles for Fine Hair
This look is ALL about the layers- a great option for ladies with thick hair! Unique and cool, her shaved sides are left a natural color while her top half is given life with bright blonde and accenting purple.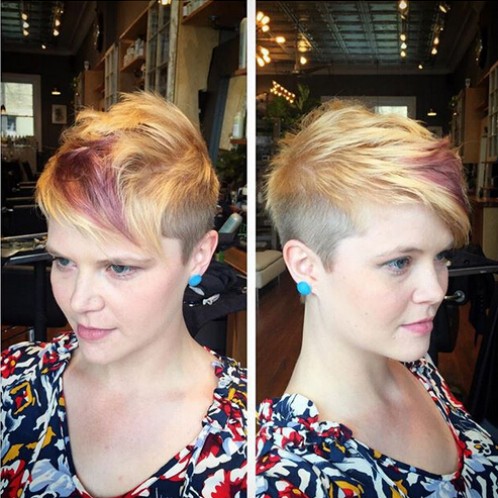 The 'Wet' Pixie
Oh, so chic. So fabulous. So flawless. The 'wet' look is insanely popular and was seen all over the latest fashion shows, and we think it's downright gorgeous. Her short, layered pixie haircut is slicked down with a tad bit of gel and her thick side swept bangs are the perfect ending.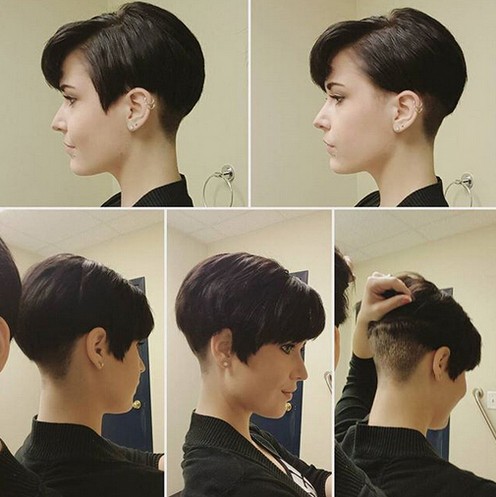 Half-N-Half Pixie: Easy Everyday Hairstyles for Women Short Hair
We're loving this adorable pixie haircut, with a short cut in the back and a longer cut up front. Her half-n-half hairstyle features a lovely auburn/brown hue in the back with blonde side swept bangs that really brighten up her complexion.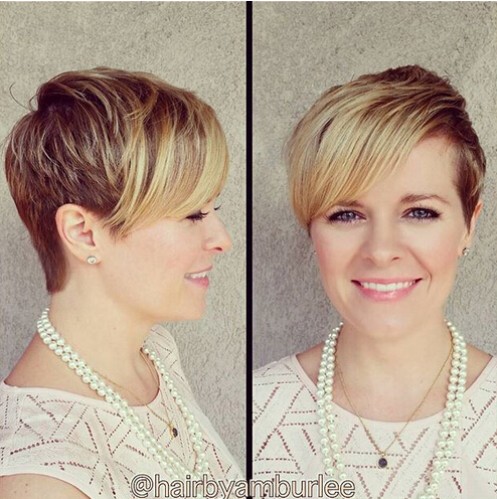 'V' Shave: Very Short Haircut
There's a new trend that's hitting for 2016, and it features uniquely shaved patterns RIGHT into the head! Here we see one of these styles, a subtle 'V' shape at the nape of the neck. How cool is that?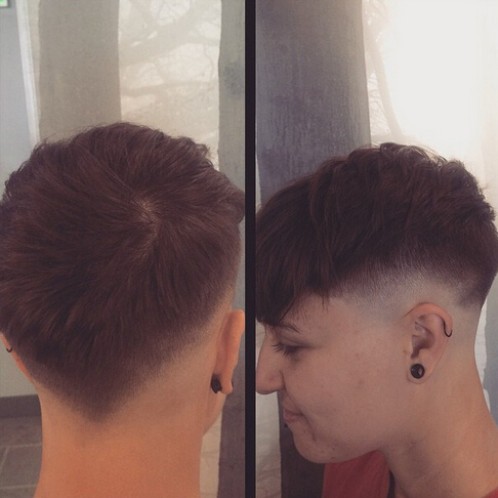 Voluminous Gray Curls: Short Haircut for Thick Hair
Snazzy and sexy all at once, this voluminous hairstyle features tons of gorgeous curls throughout a highly layered pixie haircut. Fabulous.
Highlighted Choppy Pixie: Short, Thick Hair Style
Chic doesn't even begin to describe this daring 'do! She shaves the sides and back of her head while letting the rest of her mane be cut with tons of choppy layers for a fierce and ferocious finish.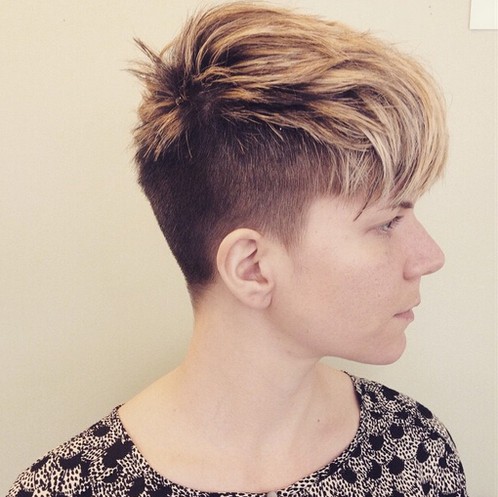 Casual Graduated Bob: Asymmetrical Short Hairstyles
The graduated bob is among the favorites when it comes to short hairstyles, and we're loving this unique take on it. The back of her locks are chopped and shaved while the front is asymmetrical and fun. So many layers of different heights and lengths is what makes this look SO cool!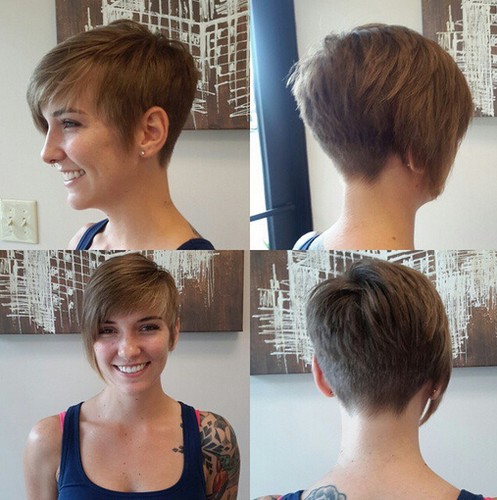 Buzzed and Chopped: Very Short Hair Cuts for Heart Face Shape
So you're a lady with a bit of an attitude, huh? Then I gladly introduce you to this edgy 'do. It's made up of tons of choppy layers and buzzed sides for a very enticing finish. Easy to style and you can go from day to night with the way you use your makeup and wardrobe.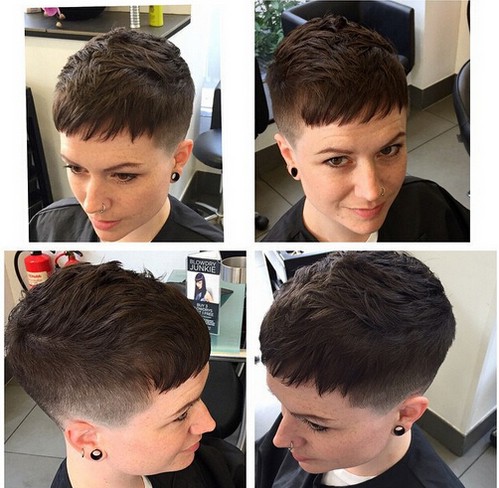 Short Bowl Cut with Shaved Sides
Ladies, don't be afraid of the bowl cut! Pophaircuts.com it just so happens to be a hit hairstyle trend for 2016. Consider an extra short cut with shaved sides for a bit of edge!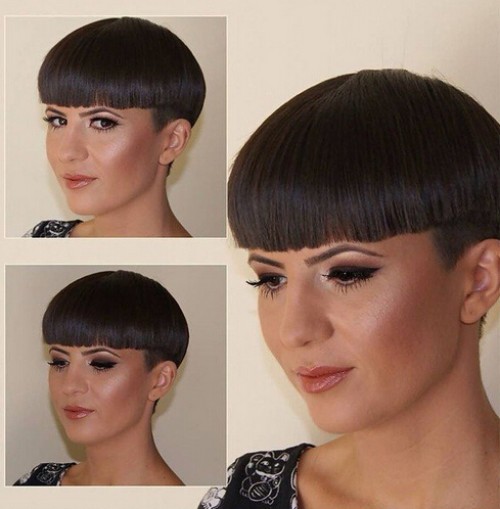 Casual Layered Pixie
Nothing too extreme here! This lovely and casual pixie has a shortly chopped back with a bit of length leftover up front to sport those trendy side swept bangs.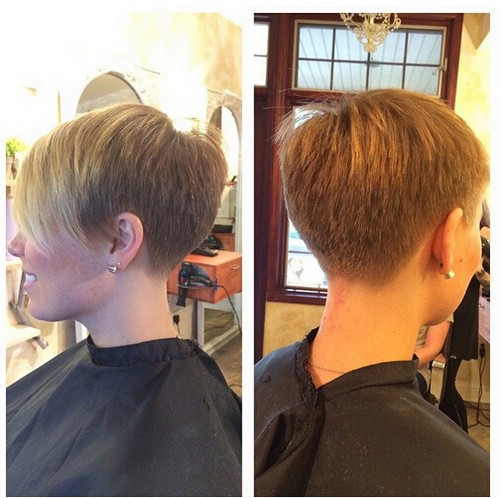 When it comes to short hair, they certainly don't come up 'short' in the style department! Will you sport a simple layered haircut or go all out with curls?