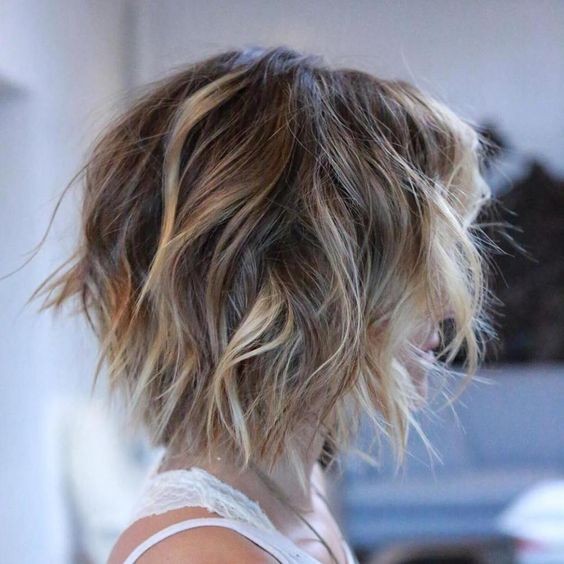 10 Stylish Messy Short Hair Cuts: Attractive Women Short Hairstyles
Messy hair is a fabulous trend. It creates a cool, contemporary and edgy finish which allows you to stand out from the crowd. Volume and bounce are essential for messy hair styles, and we absolutely adore the end result. So much so, we thought we'd showcase some of our favourite messy haircuts for short hair. This is to prove how a little tousle can transform your style! We'll even give you some tips on how to work these looks into your own style. Let us know which messy short haircut is your favourite.
Brown to Blonde Balayage Bob Hair Styles – Messy Hair Cut Ideas
We're starting strong with this beautifully tousled bob. Cut a bob around the jaw level right around the face. Ensure the ends are cut bluntly. Work lots of layers throughout the cut towards the top of the head. Start with a brown dye at the roots and quickly blend to a blonde shade at the ends. Add curls from top to bottom and run your fingers through your hair with product to create a tousled finish.
Tousled Golden Crop – Chic Short Haircut for Thick Hair
Golden blonde is a beautiful hair colour – which is why we love this bob so much! Cut your hair in a medium length bob. Make sure the bottom layer is kept close to the head. The top layer should be longer. Cut a fringe towards the front of the face to finish the style. Add hair product to your fingers and loosely run through your hair for this incredible edgy look.
Bright Blue Pixie Crop – Short Hair Color Ideas
Pixie cuts are the best way to show off your features. Create the perfect low maintenance and high impact style by chopping your hair into a pixie crop. Leave a long fringe section on one side and add lots of layers. The more layers the bouncier the cut – so be brave. Finish with a metallic blue dye all over and loosely flick the ends. Flick the top layers up for a fabulous silhouette.
Brown and Red Bouncy Bob Hair Cut
Ombre colour transitions look incredible on messy short hair styles! Recreate this style by blending brown and red together in a stunning colour melt. Make sure your hair is kept short with lots of layers towards the top of the head. This will ensure a beautiful curved silhouette. Curl the ends of every layer for this subtly tousled style we simply adore.
Icy Blue Pixie Cut with Blunt Fringe – Cute Short Hairstyle
A blunt fringe is a cool and edgy finish to any style, especially short bobs! This incredible pixie cut is kept extremely close to the head. Finish the style by cutting a short and blunt fringe across the forehead. This will add a contemporary finish to your style. Choose a bubblegum blue shade to dye your hair for extra wow factor! Loosely tousle the hair by adding hairspray and running your fingers through it.
Brown Curly Pixie Cut with Highlights – Balayage, Messy Short Hair Styles
Adding curls to a long fringe of a bob creates the most beautiful finish. Style yours with a long fringe section at the front of the head. Keep the rest of the bob short and cut closely to the head. Incorporate lots of choppy layers, especially at the top. Add tight curls throughout the hair for an amazing and bouncy end result.
Tousled Blonde Bob with Long Fringe – Layered Short Haircut
Deep side partings make an amazing sweeping fringe, especially with short hair. Create a bob with your hair by cutting it short. Be sure to leave a long fringe section and keep the front of the hair longer. Leave the back of the head in a curved shape. Add lots of beautiful golden blonde highlights throughout for a sun-kissed effect. Keep the hair naturally straight but add texture using your fingers.
Bouncy Blonde Bob Hairstyle – Messy Curly Short Hair Cuts
Perhaps our favourite look of the bunch, we adore this bouncy bob. Start by opting for a traditional bob cut which falls an inch or so below the ear. Keep a side parting and keep your layers relatively long. Don't add too many shorter layers throughout. Curl your hair in a backwards direction. Add lots of ringlets all over. Roughly tousle to make your hair even bigger!
Textured Highlighted Bob – Balayage, A-line Short Hair Cuts for Women
Texture is everything when it comes to messy short hair cuts. This incredible bob haircut is full of volume. Recreate by opting for a bob which falls at jaw level. Keep the bottom layer cut close, and with the top layer of hair keep it long and bouncy. Back comb the back section to form a curved section. Add highlights for a sun-kissed effect and finish with a little tousle.
Golden Blonde Mid-Length Bob Hair Cuts – Layered Short Hairstyle for Thick Hair
Finishing our gallery is this stunning relaxed style. This medium length bob is utterly beautiful. Copy this look with a stunning white blonde shade all over. Very loosely curl your hair. Brush the curls out so that they're not defined to achieve this relaxed look. This style would be equally beautiful with big ringlets or when straight and sleek too!
Which of these stunning messy short bobs has stolen your heart? Each of them is so gorgeous in a totally different way! We'd love to hear from you and how we can help you choose the perfect hair. Be sure to let us know which style you'd like us to explore next.