22 Tousled Bob Hairstyles
For a sultry, alluring appearance, there's only one way to turn: a messy hairstyle! These 22 messy and flirty bob hairstyles look absolutely enticing, ranging from subtle with just a touch of messy waves to vibrant with loads of messy volume.
Subtle Waved Ombre with Side Swept Bangs
Her beautiful choice of ombre hair coloring features a mousy brown hue on top leading to some lighter blonde strands on the ends, and the subtle wave from front to back brings these colors to life wonderfully. Her side swept bangs add a touch of must-have trend for a gorgeous everyday hairstyle.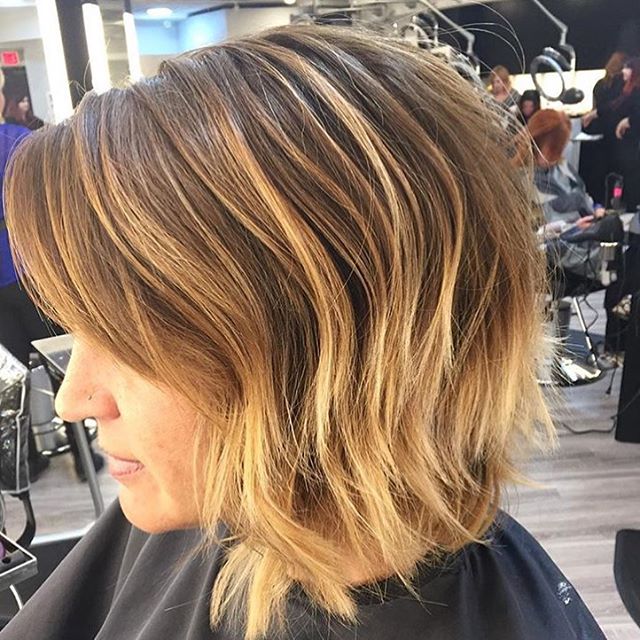 Messy Blonde Voluminous Curls
Voluminous, loose curls are made with a large-barreled curling iron and look absolutely charming. These seductive and downright glamorous curls get a sultry makeover after being tousled up a bit for a flirty bedhead finish. Loving the light blonde hue, perfect for beach and for summer.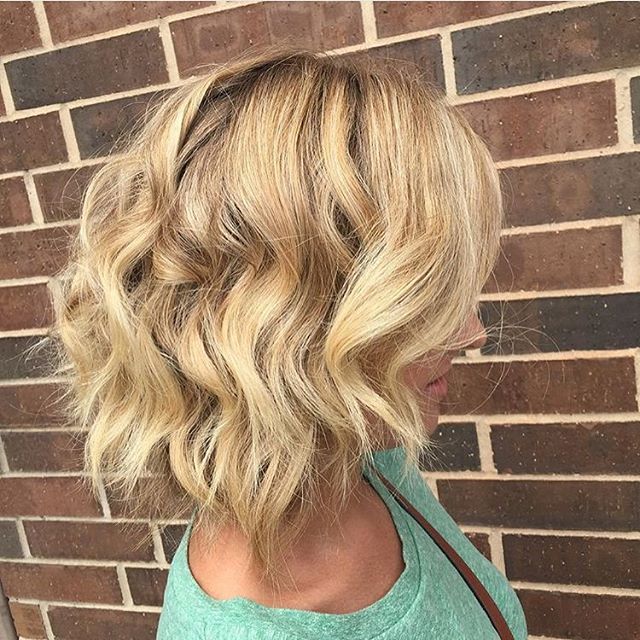 Graduated Bob with Loose Waves
Her perfectly stacked graduated bob is given a burst of youthful and alluring life with some extra loose waves, her bangs having just a touch of wave to look dainty and feminine surrounding her face.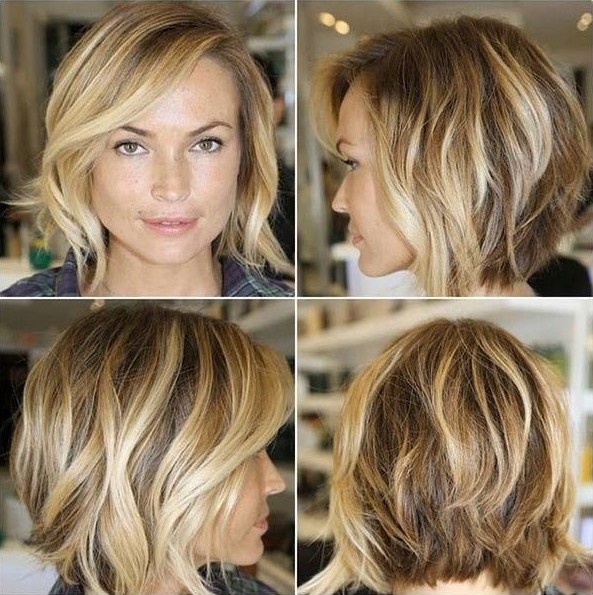 Multi-Textured Bright Ombre
Jet black on top with a burnt blonde lower half, this bright and unique ombre brightens her skin complexion and complements her color beautifully. We're loving her multi-textured hairstyle, with crazy-volumed ringlets on one side that are messy and wild, with sultry and glamorous extra-large curls on the other.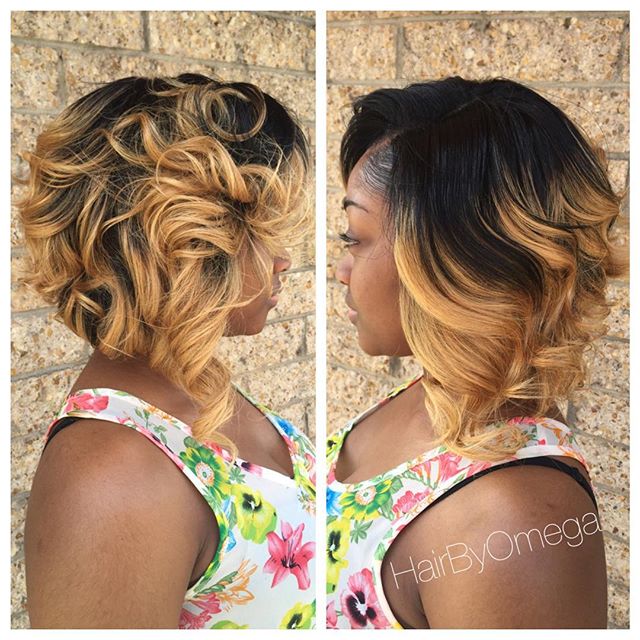 Small Tousled Curls
Her look is cool, calm, and collected, with just a few small curls throughout her mane to add a dash of dainty attitude. Loving her lighter brown highlights through the lower half of her mane, really brightening her complexion and giving her look a youthful makeover.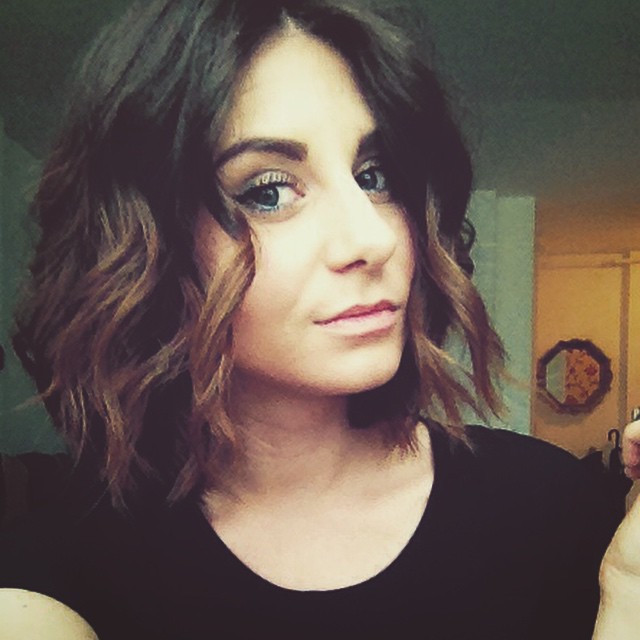 Ultra Relaxed Curls with Intense Angle and Highlights
A very trendy hairstyle, this look starts off with a heavy angle from back to front, leaving the strands around the face extra lengthy. She adds some trendy deep red peek-a-boo highlights to accent her dark chocolate brown mane, and finishes with some ultra relaxed curls that are sultry and stylish.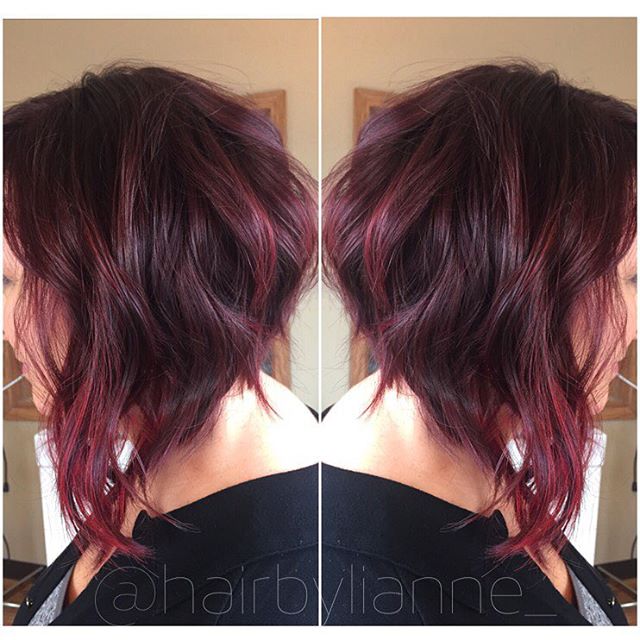 Voluminous Kinky Curls
Talk about VOLUME! These sexy kinky curls are given plenty of body and bulk by teasing out the sides of the hair and using loads of hairspray. A very frisky style that looks gorgeous with a light pink pout.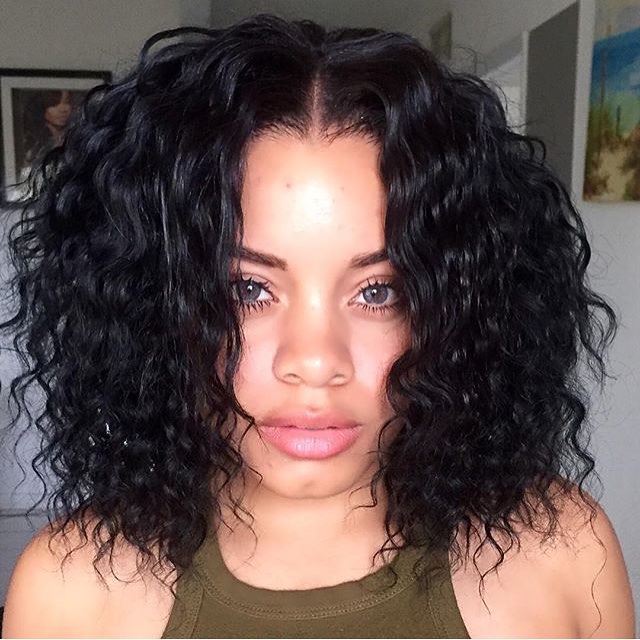 Tousled Choppy Relaxed Waves
Her graduated bob haircut features tons of choppy layers at the end, giving her hair plenty of life and youthful attitude. By simply adding a touch of wave to the ends and tousling it up a bit, she achieves a casual and cool look that's perfect for everyday use.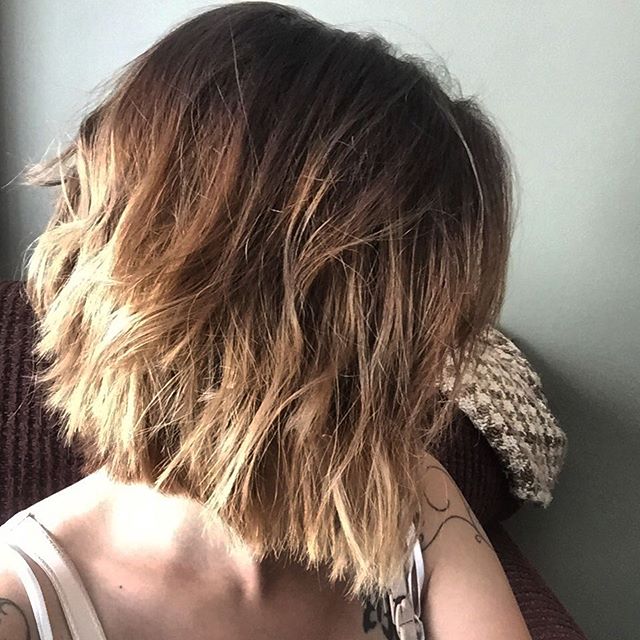 Bright Blonde Lengthy Messy Curls
Heading to a date with that special someone? Getting ready for prom or for homecoming? This elegant and seductive hairstyle is exactly what you need to take over the room. Her bright blonde locks are beautifully complemented with a set of lengthy messy curls that look dashing with lighter-colored makeup.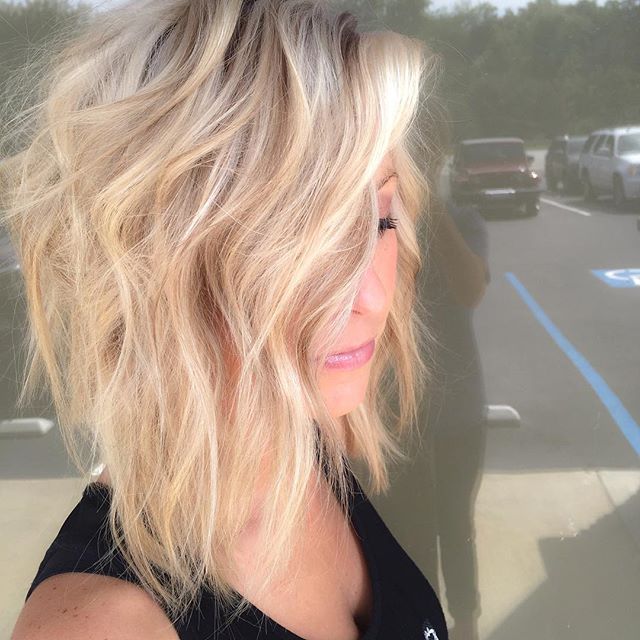 Light Medium Curls and Subtle Highlights
Adding just a few medium-sized curls to her mane gives it just enough feminine attitude to create a very lovely and versatile look. Glam it up with a fancy dress or use it as an everyday style. We also love her subtle highlights, adding just a little bit of contrast.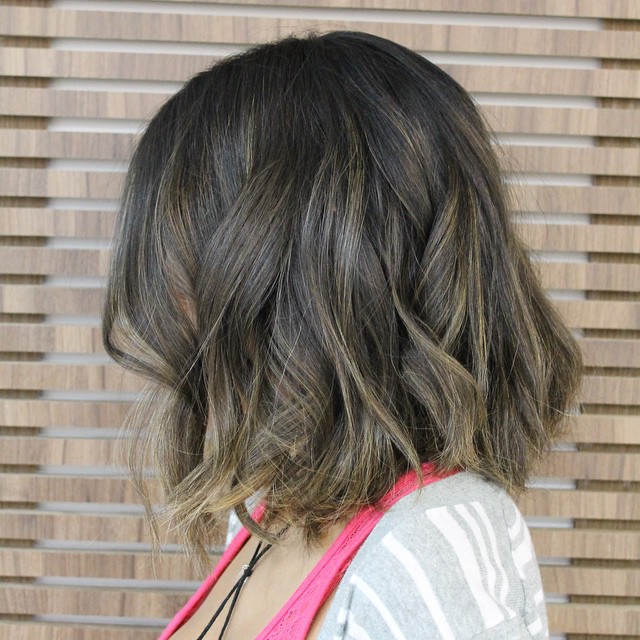 Shocking Blue Tousled Short Bob
This look is edgy and artsy, sure to grab attention from everyone who sees it! She starts off with a short bob haircut, almost pixie-like, with tons of layers of all shapes and sizes. These lengthy layers give her hair a bouncy and free finish, while a shocking blue tint gives this look an intense and trendy feature. She leaves her locks straight, tousling them up for a very exotic and free-spirited finish.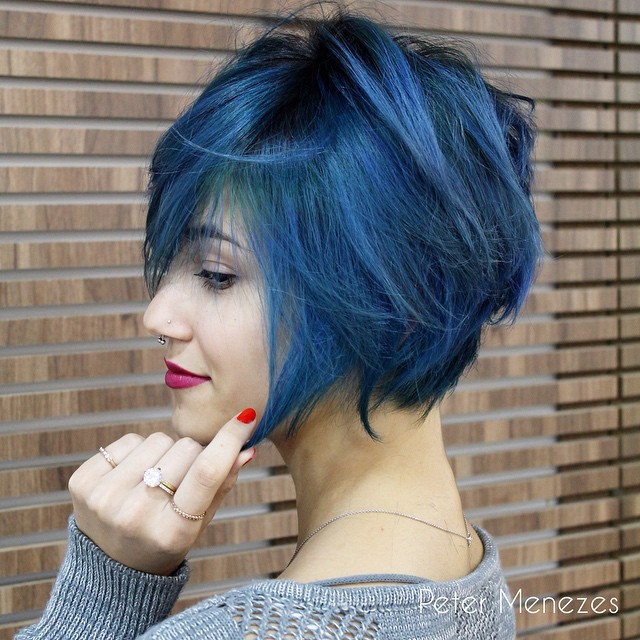 Lengthy Bayalage Waves
Bayalage are all the rage for 2016, and we're loving her blonde take on this trendy hair color. Sandy blonde roots lead to vibrantly bright blonde ends, given some delightful body with some loose tousled waves.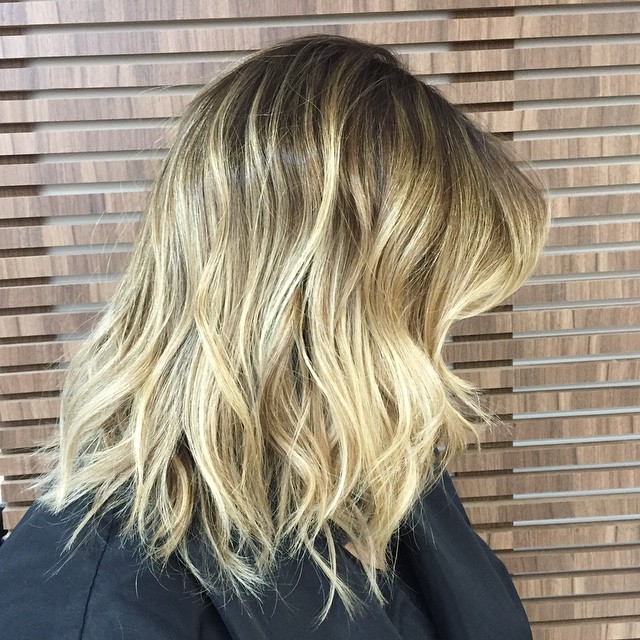 Multi-Textured
Wavy at some pieces, curly at others, this multi-textured 'do is rather fascinating to look at.
Touch of Wave
Sick of your straight strands but short on time? Then consider adding just a touch of relaxed wave to your hair for a refreshing, full-bodied finish that's dainty and lovable.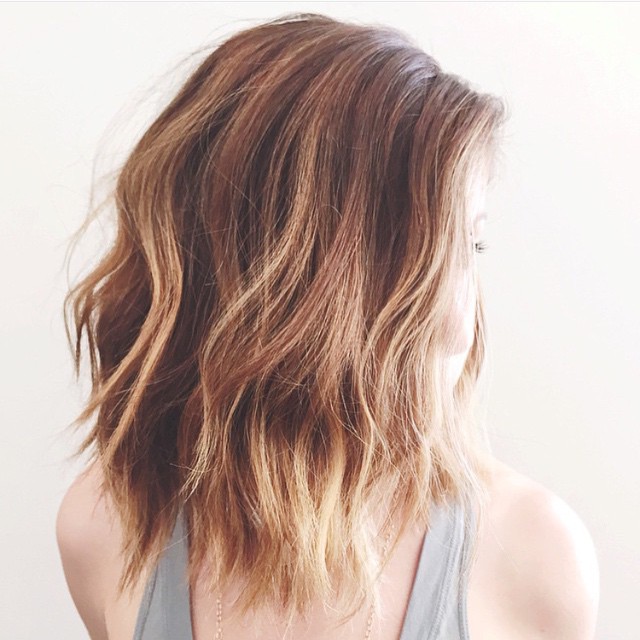 Messy Voluminous Curls with Highlights
Cool and trendy, her shoulder-length bob haircut is given trendy contrast with some gray and blonde highlights. She gives her look a burst of sexy volume with some stunning voluminous curls that are messed up to utter perfection.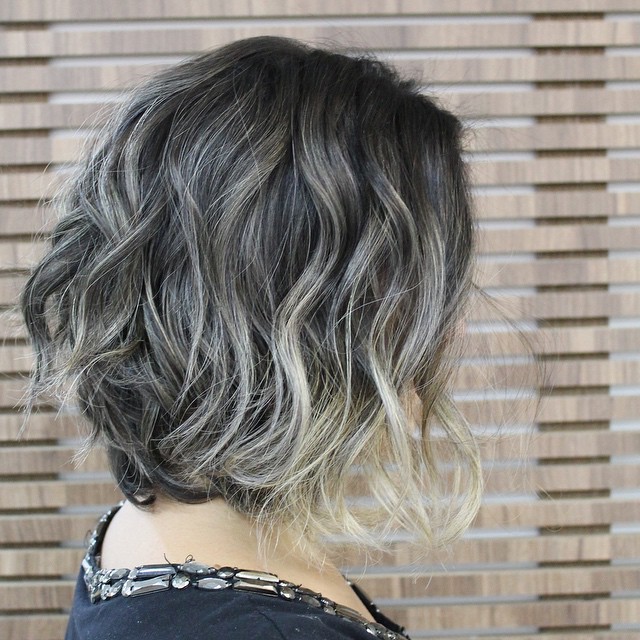 Voluminous Ringlets with Ombre
Her beautiful shoulder-length bob hairstyle features a stunning ombre with darker brown roots on top and sandy blonde ends, given a vibrant and alluring makeover with some voluminous ringlets that are tousled just a tad.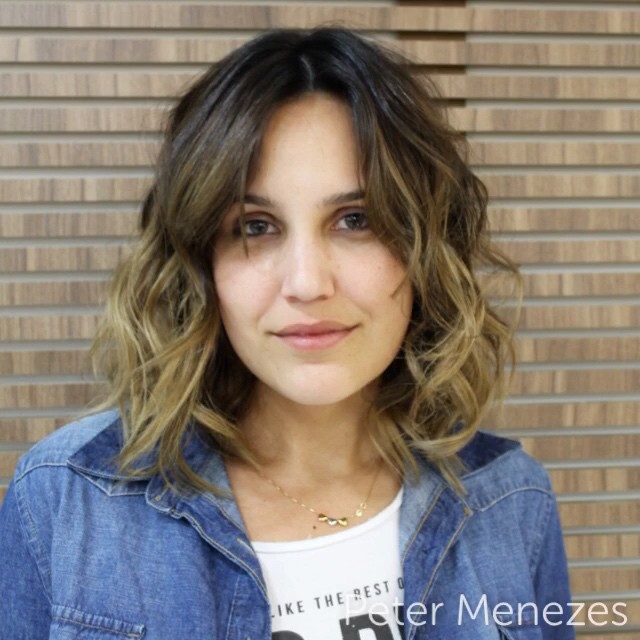 Tousled Waves with Sea Foam Green
We can't get over how delightfully trendy and stylish jet black hair looks with accenting sea foam green! It's quite an eye-catching color and the addition of tousled loose curls really makes this a stand-out 'do.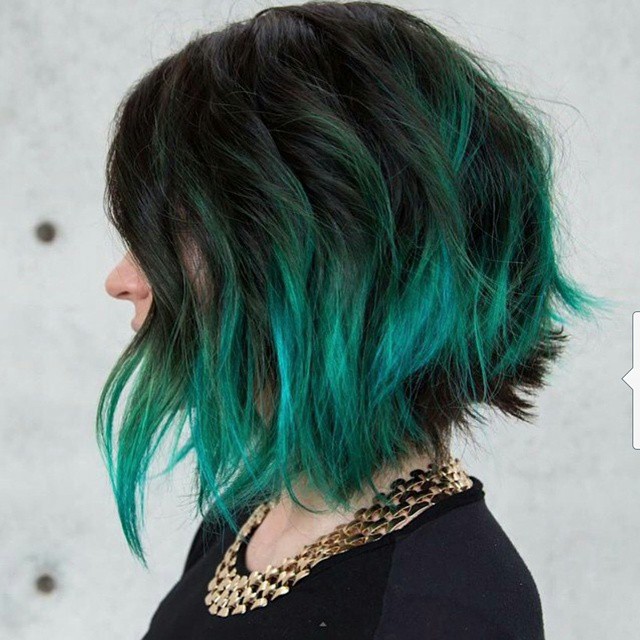 Voluminous Relaxed Waves
Not too messy but not too straight-and-narrow, her gorgeous voluminous relaxed waves are the perfect 'in-between' when you want to look casual but not like you just got out of bed. Loving her gorgeous style.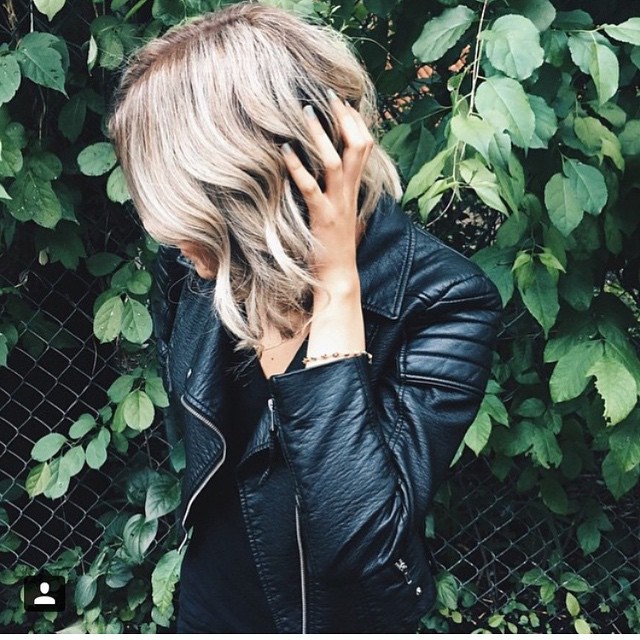 Super Voluminous Curls and Unique Ombre
Jet black on top with a collection of browns on the ends is what makes THIS hairstyle stand apart from the rest! Her unique ombre hair coloring is quite an eye-catching, and she adds some delicious and glamorous voluminous curls that are really bold and extra-large. Loving this precious style.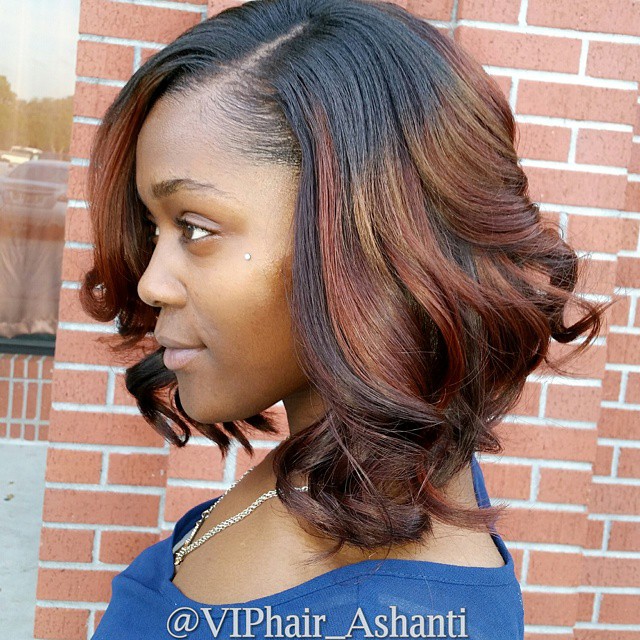 Purple Curled Bob
For the gals out there who crave a style that turns heads, this one is for YOU! Featuring the trendiest color for 2016, this bright, look-at-me purple bob is given loads of youthful body with some medium sized curls. She teases the back for added height and perk and tousled them up just a tad for a sexy appearance.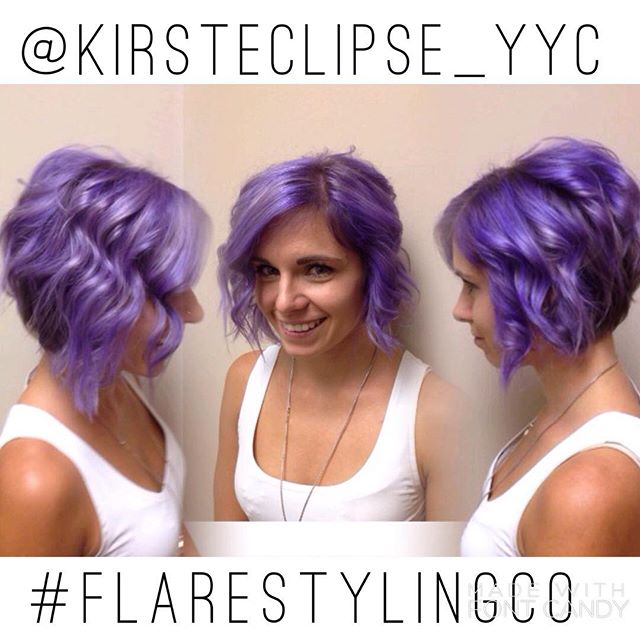 Magenta and Gray Tousled Ringlets
Her beautifully lengthy bangs are swept over and brushed back, letting her seductive eyes peek through the strands. She finishes off this sexy look with some tousled ringlets and magenta and gray strands that are downright show-stopping.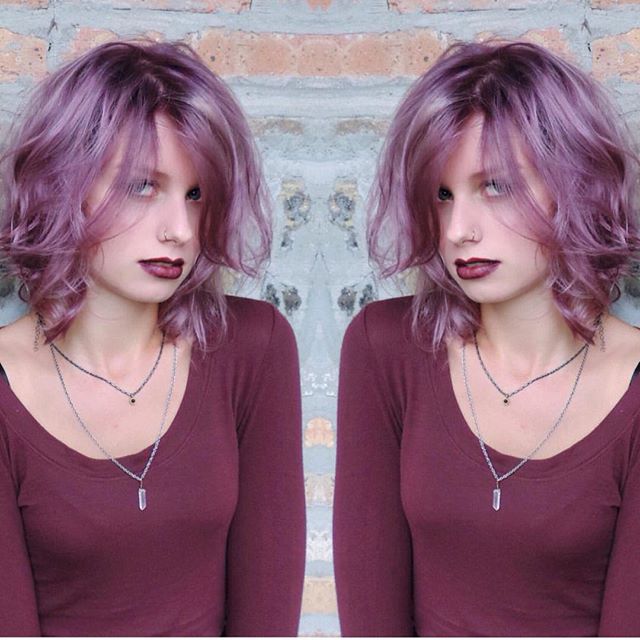 Messy Ringlets with Highlights
We're LOVING her adorable ringlets! They're so fashionable and feminine, and messing them up just a tad leaves them comfortable and bouncy instead of rigid and over-the-top. Such a perfect look for any occasion, and her highlights are a great accent to her darker roots.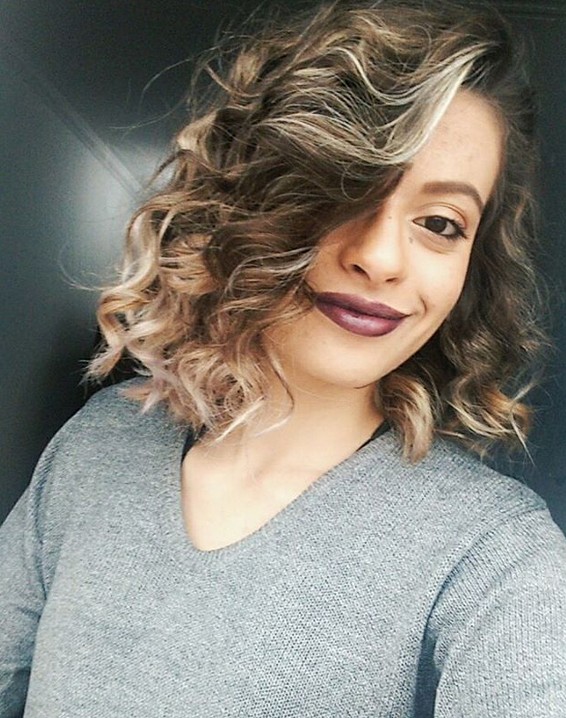 For a look that is delightfully elegant and deliciously alluring, messy and tousled bobs are the only way to go! Pophaircuts.com which one of these darling styles will you try?